During the teenage years, individuals experience numerous changes and growth, posing significant challenges. One such challenge is attaining a healthy and confident smile, particularly when conventional metal braces are the common solution. However, there are other options. With clear braces, achieving the desired smile has become more comfortable and discreet, effectively maintaining oral health and boosting self-confidence.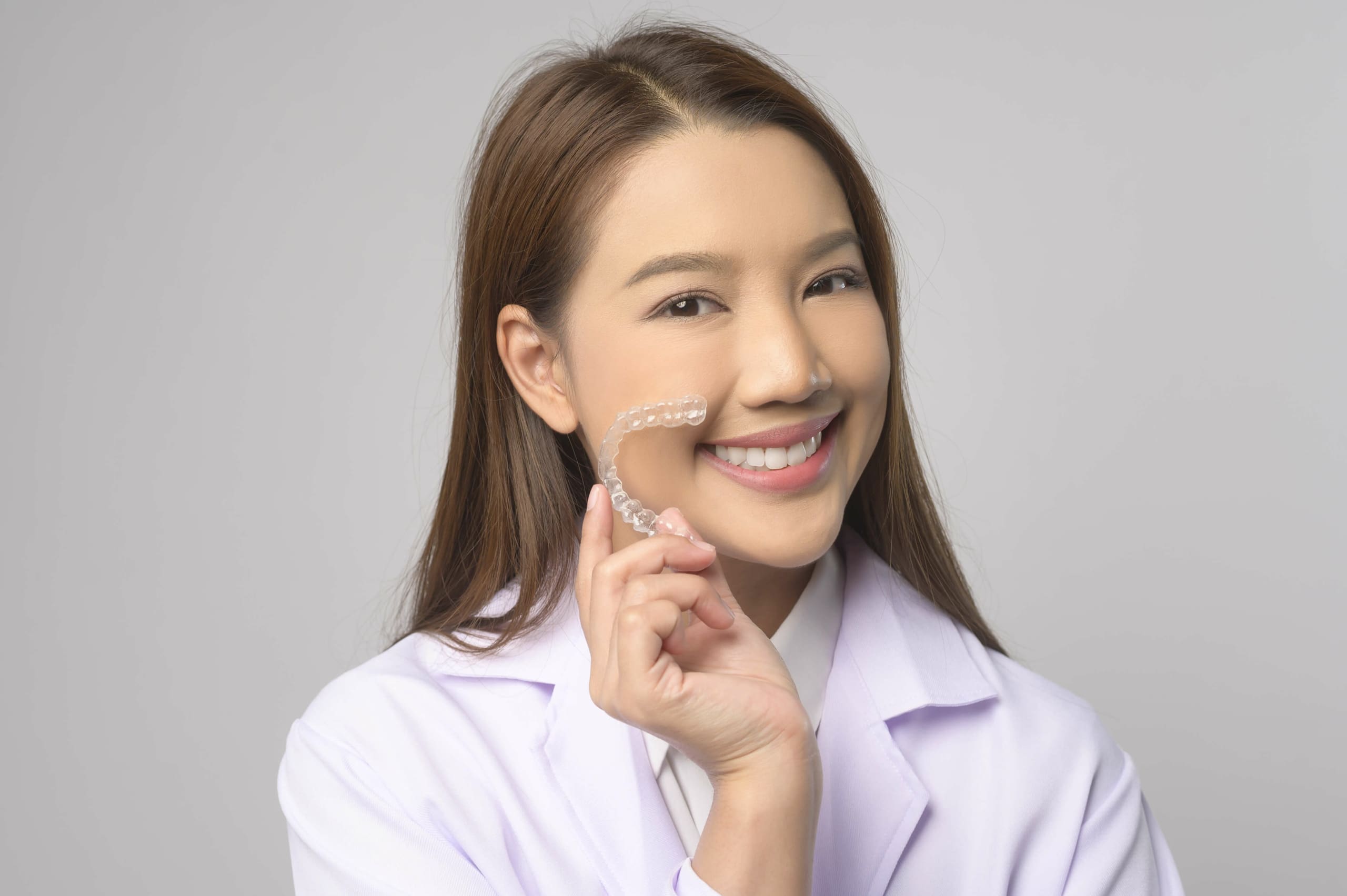 Clear Braces vs. Invisalign®
Clear braces and Invisalign® are both cutting-edge orthodontic solutions designed to align teeth effectively, but they differ in their approach and aesthetics:
Clear braces are orthodontic devices that effectively align teeth like traditional metal braces. However, they offer a far more aesthetically pleasing solution. Made from a translucent material that seamlessly blends with the natural color of teeth, these braces are practically invisible.
Among the various options, Invisalign® reigns as the most popular form above clear braces, utilizing a series of transparent aligners to achieve optimal teeth straightening. Invisalign® offers an innovative approach to teeth straightening by utilizing clear aligners for teeth that progressively adjust your teeth in a series of carefully designed stages. These custom clear aligners ensure a controlled and gradual movement toward proper alignment. The outstanding effectiveness of this method guarantees exceptional results and unparalleled precision in correcting teeth.
While clear braces and Invisalign® offer discreet teeth straightening solutions, they vary in their methodology, making it crucial to choose the one that aligns with your specific orthodontic needs and preferences.
Are Invisalign® and Clear Braces a Good Option for Teens?
Regarding orthodontic treatment options for teenagers, Invisalign® & clear braces are an exceptional choice. Clear aligners, also known as Invisalign® for teens, effectively address dental issues and instill confidence and comfort, surpassing what traditional braces offer; it is an aligner that can be removed at any given time, allowing teens to continue engaging in sports, playing musical instruments, and enjoying their favorite foods without restrictions.
Besides the numerous aesthetic and practical benefits, clear aligners for teens are equipped with compliance indicators – small blue dots that fade over time as the aligners are worn. These indicators are valuable for orthodontists and parents to track the aligners' usage, ensuring a successful treatment journey.
Teenagers place great importance on their appearance, and wearing metal braces might not appeal to them. Clear braces are virtually invisible, allowing teens to maintain their natural smile and confidence throughout treatment.
Invisalign® or Clear Braces: Which Is the Better Option?
When it comes to orthodontic treatment alternatives designed for teenagers, the debate between Invisalign® and clear braces takes the spotlight. Clear braces, specifically Invisalign®, emerge as a remarkable option as they effectively tackle dental concerns. It also fosters self-assurance and convenience that surpasses the capabilities of traditional braces or even clear aligners for teens. However, the latter has one distinct advantage that lies in its removability – a characteristic absent in clear braces – enabling teenagers to freely participate in sports, play musical instruments, and relish their favorite foods without being confined by orthodontic constraints.
Adolescents place a high priority on their appearance, so the idea of wearing metal braces may not be well received. However, clear braces are a great option as they are barely noticeable, allowing teens to maintain their natural smile and confidence during the treatment process.
On the other hand, the removable clear aligners for teens and adults are equipped with compliance indicators – small blue dots that fade over time as the aligners are worn. These indicators are valuable for orthodontists and parents to track the aligners' usage, ensuring a successful treatment journey. While teens may love the freedom that comes with clear aligners, it is their responsibility to ensure they are wearing it in order for the treatment to work.
How Can I Get Started with Invisalign®?
Getting started with Invisalign® is a simple process. First, choose the right orthodontist for your needs and schedule a consultation. When searching for an orthodontist for your teenager, finding a specialist who focuses on Invisalign® treatment is vital. During the initial consultation, they will thoroughly evaluate your teen's dental requirements and determine if clear braces or Invisalign® is the best choice. This personalized approach ensures that your teenager receives top-notch treatment and attains their desired smile with confidence and comfort.
At Atlanta Orthodontic Specialists, we provide individualized consultation and treatment plans for each patient, ensuring they receive the best possible care. Our treatment process consists of three key steps:
STEP 1: We will first use the iTero Element handheld scanner to map the interior of your mouth.
STEP 2: We will transport your iTero scan to the Invisalign lab, where expert professionals will craft your custom transparent aligners skillfully. Once ready, we will have them delivered to our office for your pickup.
STEP 3: Once you receive your aligners, it is recommended to wear them for a minimum of 22 hours each day, excluding meal and dental hygiene times. A check-up appointment will be scheduled every two months to provide you with the next set of aligners. This step repeats until your treatment is completed.
Invisalign® for teens is an innovative, effective, and aesthetically pleasing way to straighten teeth and create confident smiles. While traditional braces remain an option, the benefits of clear braces and clear aligners have made them a popular choice among teenagers and their parents.
If you're ready to take the first step toward a more confident smile for your teen, don't hesitate. Book a consultation with us, and let's start this journey together.
https://atlantaortho.com/wp-content/uploads/2020/02/aos-logo4.png
0
0
coxonesearch
https://atlantaortho.com/wp-content/uploads/2020/02/aos-logo4.png
coxonesearch
2023-08-18 18:01:21
2023-09-18 18:07:13
Invisalign® for Teens: Straightening Smiles with Confidence