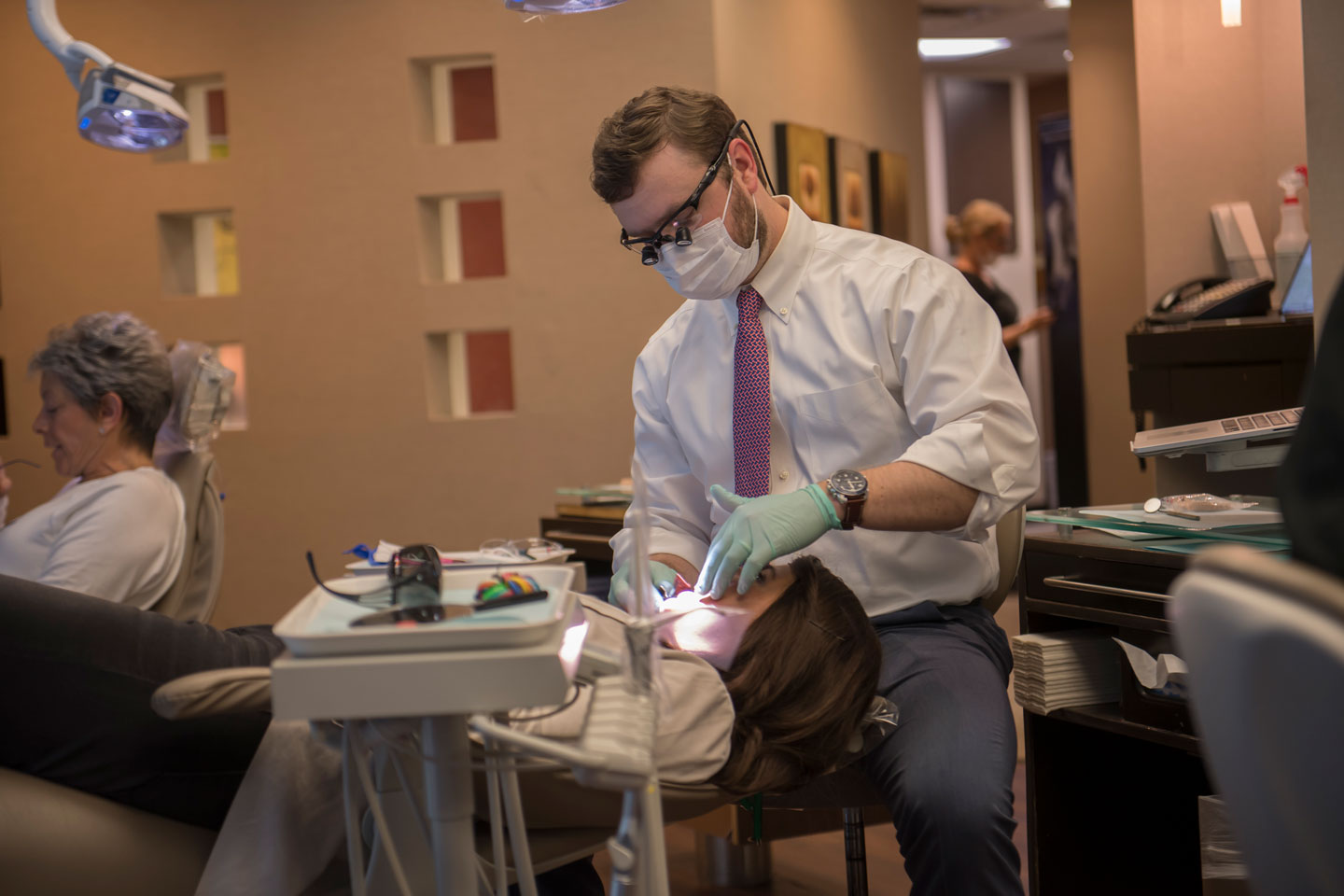 INVISALIGN®
4 Reasons Invisalign is Sandy Springs' favorite choice for orthodontic treatment
Won't cramp your style  – Invisalign aligners are created from clear,  medical-grade plastic, so no one can see that you're wearing them!
Comfortable – Your Invisalign aligners are custom-fit just for you, so they're comfortable to wear.
Quick – Invisalign can straighten your smile in as little as six months!
Convenient – No dietary restrictions. No complicated gadgetry required to clean your teeth. You just pop your aligners out when you want to eat or brush your teeth. They're so easy!
How much time does Invisalign treatment take?
Invisalign treatment typically lasts between 12 and 18 months. The total amount of time it takes to straighten your teeth depends on how far each tooth must move to achieve a straight smile. Our Sandy Springs patients with only minor misalignment often complete treatment in a few short months!
3 Steps to Invisalign Treatment
Invisalign's convenient tooth-straightening process is only three steps.
STEP 1
Your Sandy Springs orthodontist will use the iTero Element handheld scanner to map the interior of your mouth.
STEP 2
Our office will deliver your iTero scan to the Invisalign lab. The lab will create your transparent aligners and ship them to our office, where you'll pick them up.
STEP 3
Once you receive your aligners, you'll wear them for at least 22 hours every day – any time you're not eating or brushing your teeth. About every two months, you'll come see us for a check-up and to pick up your next set. Step 3 repeats until treatment is complete!
Am I a good candidate for Invisalign?
Invisalign can work for almost anyone. As long as you don't have significant malalignment issues, you're probably a good candidate for Invisalign.
Invisalign can treat:
Crowded teeth
Overbite
Underbite
Crooked teeth
Gapped teeth
How much does Invisalign cost in Sandy Springs, GA?
The cost of Invisalign in Sandy Springs and the Atlanta metro area usually runs between $3,000 and $5,000. The total price of Invisalign will depend on how much your teeth need to move and how many aligners you'll need over the course of treatment to achieve your beautiful smile.
Is Invisalign covered by insurance?
Some health insurance and dental insurance policies cover Invisalign. Contact your insurance company to find out for sure.
We don't usually recommend Invisalign for children, because most kids just don't yet have the maturity to keep up with aligners and wear them properly for the entire 22 hours a day. Of course, there are exceptions. If your child is interested in Invisalign, come in to see us so we can make sure that's the right choice for them.
Ready to begin Invisalign treatment in Sandy Springs?
Atlanta Orthodontic Specialists would love to help you achieve the beautiful smile you've always wanted with Invisalign.