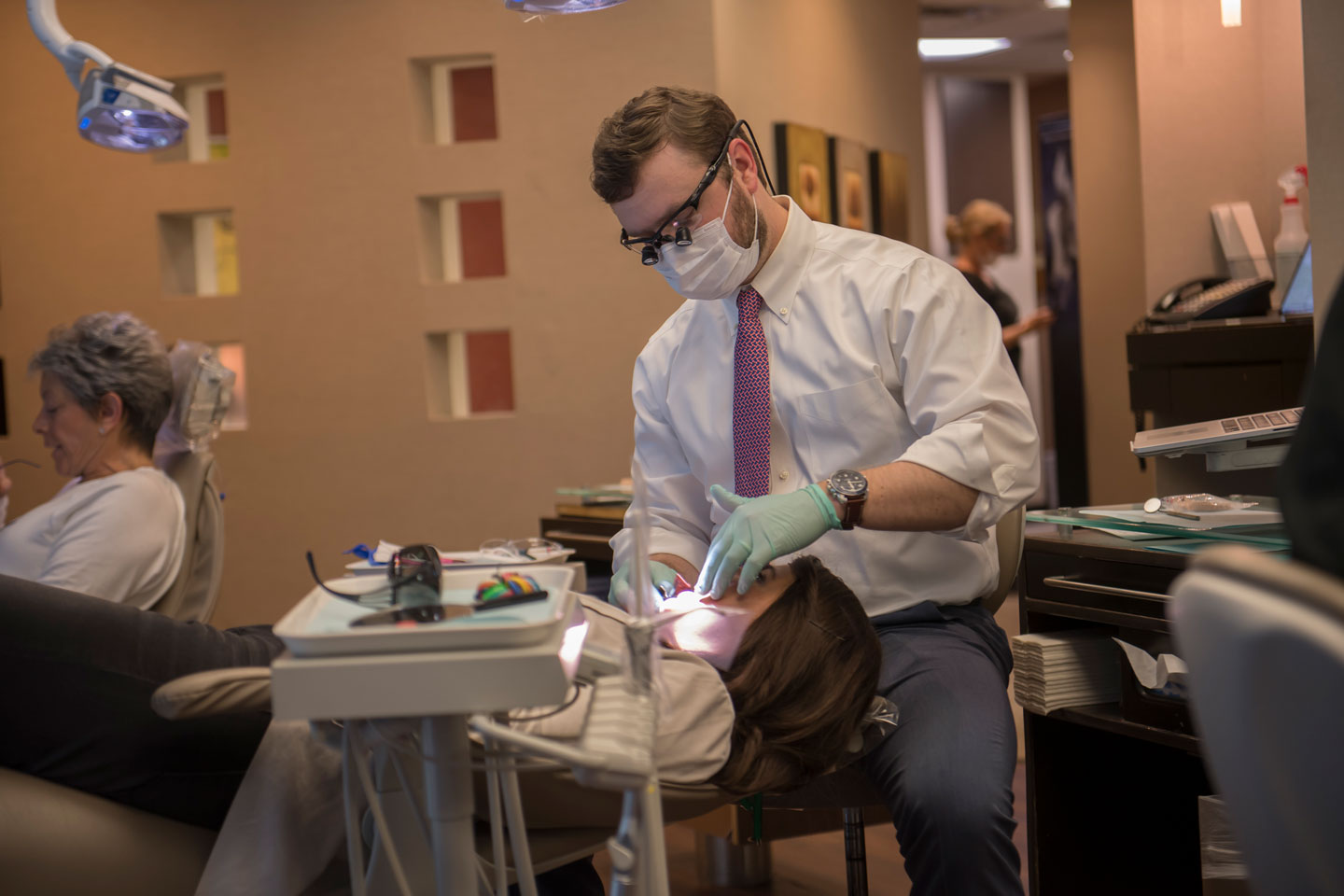 INVISALIGN®
4 Reasons To Choose Invisalign in Sandy Springs
Transparent  – Invisalign aligners are created with medical-grade clear plastic, so no one will know you're wearing them but you!
Comfortable – Each clear aligner is custom-made to fit you, so they fit comfortably and are easy to take out for meals.
Quick – Invisalign allows you to straighten your teeth in as little as six months!
Convenient – Invisalign aligners are removable, making them the most convenient braces option in Sandy Springs. Slip them off for meals, to brush your teeth, and more.
How long does Invisalign take?
Invisalign treatment usually takes between 12 and 18 months. The time it takes to straighten your teeth with Invislaign depends on on how much the teeth need to move to achieve a straight smile. Our Sandy Springs patients with only mild misalignment can often complete treatment in only six months!
The Three Steps of Invisalign Treatment
All it takes to achieve the straight smile of your dreams is three easy steps.
STEP 1
Your Sandy Springs orthodontist will use the iTero Element handheld scanner to create a precise, 3D digital scan of your teeth.
STEP 2
After your iTero scan is completed, our office will send the scan to the Invisalign laboratories, where your custom clear aligners will be made. The aligner-creation process uses your iTero scan as the blueprint, so your aligners will fit exactly. The Invisalign lab will then ship your first set of aligners to our office, where you'll pick them up.
STEP 3
Every day, you'll wear your aligners for at least 22 hours, only taking them out to eat or brush your teeth. You'll even wear them while you're sleeping. In about two months, you'll stop by our office to pick up your next set of aligners. Our orthodontist will also check your progress to make sure your tooth-straightening journey is on track. Step 3 repeats until treatment is complete!
Is Invisalign right for me?
The great thing about Invisalgn, in addition to being so convenient and the fastest braces option on the market, is that it works for almost anyone. If you don't have significant misalignment issues, you're probably a good candidate for Invisalign.
Invisalign can be used to treat:
Overbite
Underbite
Crowded teeth
Crooked teeth
Gapped teeth
How much does Invisalign cost in Sandy Springs?
The cost of Invisalign typically lands between $3,000 and $5,000 in Sandy Springs. The total price of Invisalign depends on how many aligners you'll need and overall treatment time to achieve your beautiful smile.
Is Invisalign covered by insurance?
Invislalign is covered by some health insurance and dental insurance companies. Contact your insurance provider to see if you're covered!
Can a child get Invisalign?
We typically don't recommend Invisalign for children. To keep up with aligners, wear them properly, not lose them, and remember to put them back in after meals and brushing, a certain level of maturity is required that most children simply do not have.
Ready to start your Invisalign journey in Sandy Springs?
Atlanta Orthodontic Specialists would love to help you achieve the beautiful smile you've always wanted with Invisalign.